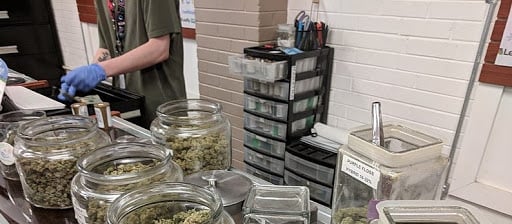 Image Source https://upload.wikimedia.org/wikipedia/commons/7/7f/Cannabis_Dispensary_flower.jpg
The Covid-19 pandemic has devastated entire industries, and in many sectors of the economy the post-lockdown prognosis looks bleak. On the other hand, there have been some unexpected beneficiaries of the global health crisis, and of the stringent lockdown measures. Cannabis seed retailers have been one of these.
In fact, in the last few months we've seen an explosion in interest for cannabis seeds. Plenty of people have taken the opportunity to start their own grow, having decided that a few weeks (or months) at home is the perfect time to explore a new hobby. Retailers have also been flooded with questions and orders for CBD products.
In some publications, these trends have been viewed with suspicion. People aren't "working from home," some tabloids have claimed: they are using the enforced "break" from work to get high. While this might be true to some extent, it misses the larger point. In reality, increased consumer awareness of the benefits of CBD, and especially its role in improving mental health, are driving this spike in demand.
In this article, we'll look at how the cannabis seed and associated industries have benefited from the pandemic, why this has been the case, and what it means for the future.
The Numbers
It's difficult to overstate the impact of the pandemic on cannabis seed sales. In the UK, research published by Alphagreen.io, the UK's largest marketplace for certified CBD products, suggests that more than 8 million Britons are now buying CBD products, with spending exceeding £150m in the first four months of 2020 alone. That puts the market on target to achieve revenues of £450m over the year as a whole, which would represent 50% growth compared to 2019.
This obviously represents a huge increase in demand for cannabis-based products, but it might still be an underestimation of the true growth in the industry. Data from the USA, where many states have either decriminalized (or outright legalized) marijuana for recreational use suggests that retailers have seen a "tsunami" of demand in the last few months. California cannabis sales soared nearly 160% compared to the same day in March 2019, while sales in Washington rocketed 100% and Colorado saw a 46% increase on the same day.
The Reasons
A portion of this increased demand is undoubtedly the result of recreational cannabis users having more free time. According to the Bank of America Securities, one of the reasons for the record sales of cannabis was because consumers stockpiled supplies, preparing for a lockdown. However, this is not the only reason why cannabis sales are up, and it's not even the most important reason.
To see this, you only need to look at the other sectors that have seen a spike in demand over the last few months. Specifically, sales of vitamins and other health supplements have also shot up dramatically in the same period. In other words, increased consumer knowledge about the medical benefits of cannabis products, and in particular the growing awareness that THC and CBD are not the same thing, is a major driving force behind increased sales.
Analysts are well aware of this. Dr. Dani Gordon, a specialist in medicinal cannabis and CBD products, told Forbes that the research suggested the uptick in demand was part of a broader trend. "People are increasingly turning to more natural health and wellness solutions to add to their self-care routines," she said. "Patients are looking towards natural remedies to mitigate and soothe symptoms of common conditions such as anxiety, as well as other mental and physical health concerns."
The New Normal
It seems that the pandemic, in addition to providing a short term boost in sales for cannabis retailers, has also provided a more long-term benefit. For years, the industry has suffered from an unfounded stigma attached to its products, especially in the UK. Covid-19 has led to increased consumer demand for health remedies, and the associated lockdown has given these same consumers extra time to research the benefits of CBD.
This is great news for cannabis retailers, and for the industry as a whole. There has been much speculation about the long-term economic impact of the pandemic, but one often-overlooked trend is that consumers are likely to exit lockdown a lot more informed about cannabis products. They are not going to forget their research about the benefits of CBD. In other words, the spike in demand we've seen in recent weeks might turn out to not be a spike at all but rather the new normal.
For this reason, the outlook for the industry – even in a post-pandemic world – looks rosy. The medical cannabis market has grown slowly over the past year, but recent research by Prohibition Partners anticipates a significant increase in accessibility for patients over the course of 2020, leading to a period of exponential growth in the coming years. By 2024, the UK medical cannabis market is predicted to be worth nearly £1bn (US$1.3 bn), servicing nearly 340,000 active patients.
In addition, the total UK legal cannabis market is expected to balloon to £2.31bn in 2024. Working from an estimated recreational legalisation date of mid-2021, the value of the legal recreational cannabis market by the year 2024 will be approximately £1.31bn, with nearly three-quarters of a million people being regular recreational cannabis customers.
Health and Wellbeing
In short, it's a great time to be in the cannabis seed and related business. The experience of lockdown has led to more consumers than ever recognizing the simple truth that CBD makes you feel better, and they are not going to forget this anytime soon. And once recreational use is (finally) legalized in the UK, it's likely that this attitude will lead to cannabis retail becoming a major industry.
Why not head on over to The Vault Cannabis Seeds Store and pick up some cannabis seeds now, whilst taking advantage of the discount codes VAULT15 for 15% of your order total and don't forget to check out our discount cannabis seeds page for all the latest offers, promos and competitions!

Make sure you never miss another Vault promo and sign up for our newsletter at https://www.cannabis-seeds-store.co.uk/the-vault-newsletter
Remember: It is illegal to germinate cannabis seeds in many countries including the UK. It is our duty to inform you of this fact and to urge you to obey all of your local laws to the letter. The Vault only ever sells or sends out seeds for souvenir, collection or novelty purposes.