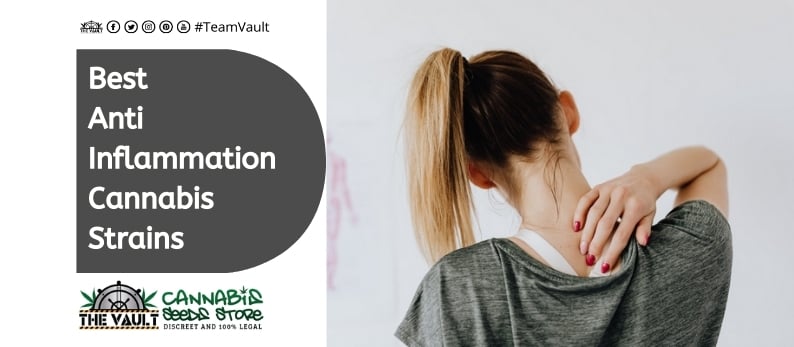 When it comes to medicinal cannabis there is a lot of variety. Sometimes it can be difficult to find the perfect strain to help with a specific issue. For example, there are a lot of pain relief strains out there. Some of them are just painkillers, which can be great, but for symptoms caused by inflammation, these might not be enough to get the job done. For medicinal users who have arthritis, joint pain, metabolic issues, diabetes and a range of other painful issues, anti-inflammatory strains are a must. These are just a few of the highest ranked anti-inflammatory cannabis strains on the market.
Harlequin CBD
Harlequin is recommended for those suffering from inflammation because she also covers a number of other bases. She is both a physically and mentally soothing strain that is often prescribed to those suffering from arthritis, fibromyalgia and multiple sclerosis. She is also recommended to those suffering from anxiety, PTSD, depression and stress. We all know that severe pain often comes with emotional pain. As she is a medicinal strain she has a low level of THC and a high level of CBD. This essentially means that those who are using her to medicate can stay perfectly lucid while receiving an excellent level of pain relief. The CBD level reaches over 5% and the THC is only around 6.5%. Her effect is calming, soothing and relaxing so perfect for anyone who struggles to have any downtime due to their illness. She has a flowering time of 56 – 63 days and can be grown indoors, outdoors or in a greenhouse.
Phantom Cookies Domina
This strain is a Sativa dominant hybrid that was created by mixing Black Domina, Cherry Pie and Grandaddy Purps. This strain is definitely stronger with a THC level of 21% and a low CBD level. However, she comes highly recommended for anyone struggling with inflammation, muscle spasms and fatigue as well as ADD, stress and depression. She is often a strain prescribed to Cancer patients who are experiencing negative side effects from treatment. Initially, the effect is happy, creative and uplifting with a focused euphoria that makes her an excellent day strain. However, in excess, she moves on to a full-body relaxation that is much more at home to the night time. Phantom Cookies Domina has a flowering time of 56 – 63 days and can be grown indoors, outdoors or in a greenhouse.
Durga Mata 1:1 CBD
This is another high CBD low THC medicinal strain that is perfect for daytime pain relief. The THC level of this strain is around 7% and the CBD is 5 – 7% making it an ideal medicinal strain. She can be used to combat inflammation, convulsions, nausea, as well as anxiety and general pain. This makes her ideal for cancer patients as well as those who are struggling with severe inflammation issues such as arthritis and fibromyalgia. She has also been bred to be easy to grow, producing robust plants that can basically take on anything. The flavour and scent are spicy but fruity with just a hint of hash. Overall, she is great for day or night time use and is the perfect companion to those suffering from long term issues.
CBD Bomb
Yet another strain designed specifically to be high in CBD and low in THC. For medical smokers who need something that they can use day to day without feeling overwhelmed, CBD Bomb is ideal. She has a THC level of 6% and a CBD level of 5%. She is an Indica/Sativa cross with a relaxing and soothing effect. She is also a good sedative which means she works well for those struggling to sleep due to pain. She is recommended to those suffering from inflammation, muscles spasms, chronic pain, insomnia, and anxiety. Her effect is very calming and relaxes deep into the muscles. She also makes a great night time strain. Even though she may not be a knockout kind of girl she definitely will help pain sufferers drift off into a comfortable and stress-free sleep. This strain has a flowering time of 56 days and can be grown indoors, outdoors or in a greenhouse.
Chemdog Millionaire Guava
This strain, a cross between Chemdog and Guava, is a powerful fruity painkiller. She is Indica dominant and pretty powerful with a THC level of around 21%. The effect is extremely happy and uplifting with a lovely, warm, soft relaxation that brings on a sense of true euphoria. This is definitely a nighttime strain as she can knock motivation and focus right out of the window. She is recommended for a variety of medical issues, both mental and physical. She is usually used by those suffering from inflammation, lack of appetite, pain, fatigue, anxiety, depression, and stress. Though she is a strong Indica she doesn't bring on couch lock and isn't too soporific. She also has a social and creative side to her that is ideal for cosy evenings with friends. She has a flowering time of 56 – 63 days and can be grown indoors or outdoors.
Cannatonic
Finally, Cannatonic is one of the finest medicinal strains on the market. She also has a 1:1 CBD to THC ratio, making her perfect for those who want to remain lucid. She is Indica dominant though she does have a decent amount of Sativa about her. She is a multi-award winner that was created by combining Reina Madre and New York City Diesel. She is a very physically helpful strain and is recommended to those experiencing inflammation, nausea, spasms, and nausea. She is regularly recommended for AIDS and HIV patients. Both her THC and CBD sit at around 5 – 6%, meaning that users can keep their wits about them while dealing with their pain. Her flowering time is slightly longer than some of those on this list. Usually, she will take around 9 – 10 weeks to flower, but the results are more than worth it. She is very versatile and can be grown indoors, outdoors or in a greenhouse.
Newsletter Sign Up
Make sure you never miss another Vault promo – sign up for our newsletter at http://goo.gl/Bt2Ba2
Remember: It is illegal to germinate cannabis seeds in many countries and some remote, less enlightened planets outside the core systems. It is our duty to inform you of this fact and to urge you to obey all of your local laws to the letter. The Vault only ever sells or sends out seeds for souvenir, collection or novelty purposes.